High Speed High Precision Try Out Oven, Try Out Ovens
---
trade, sales, commerce, marketing, distribution, try out oven, tryout oven, experimental oven, laboratory oven, test oven, trial oven, sample oven, try out ovens, tryout ovens, experimental ovens, laboratory ovens, test ovens, trial ovens, sample ovens, stress relief, high speed stress relief, stress relief oven, stress relief ovens, stress relieving oven, stress relieving ovens, high speed stress relief oven, high speed stress relief ovens, try out furnace, tryout furnace, experimental furnace, laboratory furnace, test furnace, trial furnace, sample furnace, try out furnaces, tryout furnaces, experimental furnaces, laboratory furnaces, test furnaces, trial furnaces, sample furnaces, stress relief, high speed stress relief, stress relief furnace, stress relief furnaces, stress relieving furnace, stress relieving furnaces, high speed stress relief furnace, high speed stress relief furnaces, tempering oven, annealing oven, tempering furnace, annealing furnace, tempering, annealing, degazing, metal powder, powder metallurgy, heat transfer, stress relief temperature, stress relief time, Pyrograph
---
16 mm CrSi. Stress relieving done in 10 min. or less.
A typical application for the Try Out Pyro is high speed stress relief of spring samples needed for the setup of the spring coiler before starting the production of the series.
The Try Out Pyro becomes a great help to reduce the machine stops of the spring coiler.
Thanks to the extremely low tolerance of ±3°C on the temperature a very precise stress relief close to the upper limit of stress relief temperature is possible on the Try Out Pyro and additional precious time can be saved that way.
The Try Out Pyro can be used independently to the fact if the series is made with a Pyro or not. But in that case the Try Out Pyro will reproduce automatically in a small batch format exactly the same temperature profile a spring will experience in a full size production PYRO.
Also for the Try Out Pyro a special Pyrograph heat transfer software has been developped which calculates the cycles, energy costs and power reserves once the spring parameters have been entered.

Technical Specifications
Model
Chamber (mm)
Overall Dimensions (mm)
Power (kW)
Tolerance
Image
Width
Height
Length
Width
Length
Pyro 6565TO
650
300
650
1100
800
20
±3°C
Pyro 6565TO
Also special designs according to customers' specifications
Typical High Speed Try Out heat transfer and cooling curves: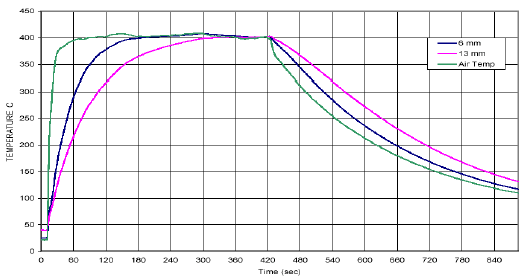 ---