High Speed Stress Relief Ovens, Tempering Ovens, Annealing Ovens, In Line Ovens, Inline Ovens, Continuous Ovens
---
trade, sales, commerce, marketing, distribution, stress relief, high speed stress relief, stress relief oven, stress relief ovens, stress relieving oven, stress relieving ovens, high speed stress relief oven, high speed stress relief ovens, in line oven, inline oven, batch oven, continuous oven, in line ovens, inline ovens, batch ovens, continuous ovens, stress relieving furnace, stress relieving furnaces, high speed stress relief furnace, high speed stress relief furnaces, tempering oven, annealing oven, tempering furnace, annealing furnace
---
Click here for an
introduction to the technology of Pyromaître
.
Gas
Models
Chamber (mm)
O
Overall Dimensions (mm)
Capacity (kg/h)
Power
Foot-
print
Image
A
B
C
D
E
F
G
310°C
370°C
420°C
BTU/1000
m²
Pyro 1611G
405
3455
155
955
4520
900
1320
2210
1820
1365
1140
500
4.3
Pyro 1611G
Pyro 1615G
405
4570
155
955
5640
900
1320
2210
2180
1590
1365
800
5.4
Pyro 1615G
Pyro 2015G
510
4570
205
1055
5640
900
1320
2210
2545
1910
1590
800
6.0
Pyro 2015G
Pyro 2415G
600
4570
205
1155
5640
1105
1525
2285
5685
4730
3730
1500
6.5
Pyro 2415G
Pyro 2420G
600
6095
205
1155
7165
1105
1525
2285
5820
5140
4545
2500
8.3
--
For imperial dimensions click here
Also special designs according to customers' specifications, e.g.: Pyro 4000G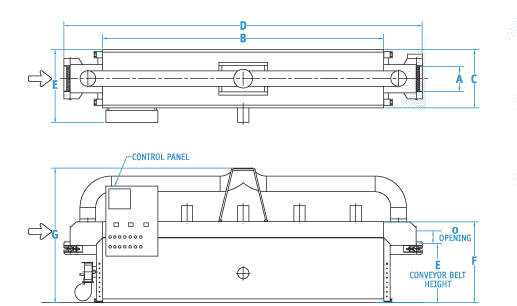 ---
Precise control of temperature:
The ovens include top-of-the-line temperature controllers; very fast power switching through SSR devices for electric models (E models and HE models) or fast modulating motors for the gas-fired models (G models). The objective is to maintain set-point accuracy within a few degrees under varying loading conditions.
Precise control of time:
The Pyro comes (equipped as standard for E series and G series, optional on the HE series) with a digital closed-loop speed controller. Calibrated in inches of belt travel per minute, the closed loop acts like a cruise control on a car does. With a simple potentiometric controller, it maintains accurate cycle time regardless of the variations introduced by friction load and voltage. This is a very important feature since, on a 4 minute trip; a few seconds make a difference. This system is accurate to within 0.4 seconds on 4 minutes cycle time.
Heat transfer uniformity:
A high-precision oven needs to be uniform. Not only temperature-wise but also heat-transfer wise. Pyro uses convection as the primary source of heat transfer. The turbines, their number and position, the shape of the chambers and the conveyor are all designed to maximize the air velocity to the part in a uniform manner and all along the part path. This is what is meant by "heat-transfer uniformity."
Sufficient reserve power:
For quick recovery at start-up of a load.
Floor space saving:
Ovens can be as small as 10% the size of regular ovens. Because of the reduced size, they are also more energy-efficient.
High capacity:
Our top machines can process 16mm CrSi wire in 6 minutes total cycle at rates of 9,000 kg/hr.

---