Spring Production / Production of Springs According to Customers' Specifications
---
trade, sales, commerce, marketing, distribution, double loop tension spring, expander spring, extended loop spring, extension spring, helical extension spring, helical tension spring, offset side hook tension spring, pendulum spring, pitched body tension spring, swing axle spring, double loop tension springs, expander springs, extended loop springs, extension springs, helical extension springs, helical tension springs, offset side hook tension springs, pendulum springs, pitched body tension springs, swing axle springs, DIN 2089, DIN 2097, DIN 2099, DIN2089, DIN2097, DIN2099
---
We provide a large variety of high precision and high quality extension springs manufactured according to DIN 2089, DIN 2097, DIN 2099 or according to
customers' specifications
.
The springs will be manufactured on customers' demands. There is no stock of standard springs.
We can only provide industrial order quantities.
Springs are available for a wide range of applications in a wide range of shapes:
double loop tension springs
expander springs
extended loop springs
extension springs
helical extension springs
helical tension springs
offset side hook tension springs
pendulum springs
pitched body tension springs
swing axle springs
and ...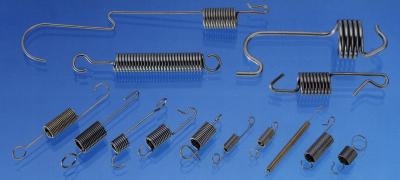 ---
---