Compression Spring / Compression Springs According to Customers' Specifications
---
trade, sales, commerce, marketing, distribution, absorbing spring, barrel spring, battery spring, brake pin spring, brake spring, chassis spring, clutch absorber spring, clutch spring, coil spring, compression spring in barreled design, compression spring in conical design, compression spring in straight design, compression spring in tapered design, compression spring in unique design, double conical helical spring, double taper spring, equalizing spring, fuse spring, gas spring, ground spring, helical compression spring, helical spring, hour-glass spring, pneumatic spring, safety belt spring, shock absorber spring, suspension spring, valve plate spring, valve spring, absorbing springs, barrel springs, battery springs, brake pin springs, brake springs, chassis springs, clutch absorber springs, clutch springs, coil springs, compression springs in barreled design, compression springs in conical design, compression springs in straight design, compression springs in tapered design, compression springs in unique design, double conical helical springs, double taper springs, equalizing springs, fuse springs, gas springs, ground springs, helical compression springs, helical springs, hour-glass springs, pneumatic springs, safety belt springs, shock absorber springs, suspension springs, valve plate springs, valve springs, DIN 2089, DIN 2090, DIN 2095, DIN 2096, DIN 2098, DIN 2099, DIN2089, DIN2090, DIN2095, DIN2096, DIN2098, DIN2099
---
We provide a large variety of high precision and high quality compression springs manufactured according to DIN 2089, DIN 2090, DIN 2095, DIN 2096, DIN 2098, DIN 2099 or according to
customers' specifications
.
The springs will be manufactured on customers' demands. There is no stock of standard springs.
We can only provide industrial order quantities.
Springs are available for a wide range of applications:
absorbing springs
battery springs
brake pin springs
brake springs
chassis springs
clutch absorber springs
clutch springs
coil springs
equalizing springs
fuse springs
gas springs
pneumatic springs
safety belt springs
shock absorber springs
suspension springs
valve plate springs
valve springs
and ...
having a wide range of shapes:
barrel springs, compression springs in barreled design
conical springs, compression springs in conical design
straight springs, compression springs in straight design
tapered springs, compression springs in tapered design
double conical helical springs
double taper springs
helical springs, helical compression springs
hour-glass springs
... and compression springs in many other unique designs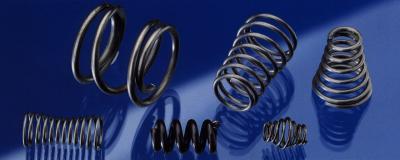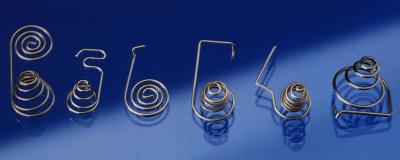 ---
---